In 1944 there were close to 25,000 Jews in Oradea, going about their daily lives. They could have expected to stay in Oradea for the rest of their days and beyond.

In 2010 Jewish burial land was transferred to the local Council for other uses as it would no longer be needed by the few remaining Jews of Oradea.

How did these people disappear?

What did they do for Oradea?

Does their legacy exist today?
When and where did they go?

Did they go of their own free will?

Did people try to help them?
Do we remember these men, women and children of Oradea and how?

Why should we care?

Has it happened since?

Could it happen again?

How do we prevent prejudice and intolerance?
News
Link to selected items of News:
With the limited resources now available to us we are needing to change our approach to this website.
From this point onwards we will post News of our activities on our Facebook page:
This main website will keep hosting and updating the present content which is extensive.
Our educational resources website for teachers www.tikvahedu.ro will continue to be developed.

We thank you for your interest and we hope you will keep following our activities. Our efforts can be helped through donations!
International day of remembrance
Today, on the anniversary of the liberation
of Auschwitz, we remember those who
suffered and perished in the Holocaust,
including the tens of thousands from Oradea
who were sent on forced labour or who were
deported to that death camp.
Asociatia Tikvah has created a short film
aimed as an educational resource for pupils,
"My Little Diary...The Diary of Eva Heyman".
The film is available in Romanian and
in English.
Go to our Facebook page to see the films.
27 January 2018
Update on activities
Our new focus of activities is explained on our
News page.

6 September 2017
Last letters
The Family Albums part of our website collects
memories of families who have lived in Oradea.
We have added a particularly poignant story of
two mothers writing to their children days before
they were taken to the ghetto.
Copies of the original letters can be read.
3 May 2017
Racial discrimination
On 21 March in 1960, 69 people were killed in
Sharpeville, South Africa, during a peaceful
demonstration to protest against the apartheid
system. Six years later the United Nations
designated the 21 March as the International Day
for the Elimination of Racial Discrimination.
21 Mar 2017
International Holocaust Remembrance Day
January 27 is the anniversary of the liberation of
Auschwitz-Birkenau by Soviet forces in 1945 and
is marked in many countries as International
Holocaust Remembrance Day.
Events in countries associated with the International
Holocaust Remembrance Alliance can be found here.
Resources for teachers to use on this day in schools
can be found on our educational website.
27 Jan 2017
Enthusiastic pupils explore identity
See more on Facebook.
2 Nov 2016
Launched in Baia Mare
The exhibition is available for viewing in Baia Mare
public library until 21 October following its launch on
5 Oct 2016
More pictures are available in News and on Facebook.
8 Oct 2016
Shortly on our way to Baia Mare
28 Sep 2016
Fourth year of tennis competition
The Lenke Ziszovits Popper Memorial tennis event was held
at the weekend for the fourth year in a row. It has now been
adopted as a national event by the Romanian Tennis Federation.
It is important to remind participants of the reason for the naming
of the event and Emilia Teszler explained the background to parents
of the young tennis players.
27 Aug 2016
Taking exhibitions to a summer camp
In a new approach we took selections of our exhibitions
to a summer camp.
7 Aug 2016
The importance of Fundamental Rights
The European Union Agency for Fundamental Rights (FRA) does
vitally important work in collecting and analysing data in the EU.
At this particular time of multiple challenges caused by migration,
increasing incidence of intolerance and the possible destabilising
effects of the UK withdrawal from the EU, their role is even
more important.
In our News section we provide a link to their analysis of priorities
in 2016 which are important for everyone concerned in ensuring
that human rights are respected.
29 Jun 2016
Presenting our work to an international audience
Today, our project manager, Maia Teszler gave a presentation
of our work in Asociatia Tikvah to delegates from 40 countries
attending the International Holocaust Remembrance Alliance
conference in Bucharest. The chairmanship of the IHRA rests
With Romania until March 2017.
Pictures of Maia at the event and the award by the President
of Romania to Professor Yehuda Bauer is on our News and Facebook.
24 May 2016/28 May 2016
Launching in Salonta on 25 May
We will opening the Anne Frank- a History for Today
exhibition in Salonta on 25 May (see our News for the
detail) in these beautiful surroundings.
21 May 2016
Anne Frank exhibition
Thanks to our major sponsor Claims Conference we
have been able to continue our programme of visits
to different regions of Romania with our Anne Frank
exhibition. In April 2016 we have been to Resita and
Hunedoara. More detail on our Facebook.
25 Apr 2016
Reaching young people
Our programme for reaching young people in
schools with our travelling exhibitions continues
and with visits to Sintandrei and a synagogue in Oradea
we have now reached 11 different locations. See our Facebook.
18 Apr 2016
Successful launch in Timisoara
The "Anne Frank A History for Today" exhibition
was launched on 9 March and will run until 29
March.
9 Mar 2016
Anne Frank exhibition in Timisoara
Tomorrow we launch the "Anne Frank A History for Today"
exhibition in Timisoara. It will be available for viewing for
the next month. See our Facebook for pictures of the event.
8 Mar 2016
Helping the Fundamental Rights Agency
Asociatia Tikvah was very pleased to be invited
to the Fundamental Rights Agency of the
European Union in Vienna to partake in an
important workshop last week. More information
in News.
29 Feb 2016
Reaching young people
Asociatia Tikvah has been supported by Joods
Humanitair Fonds and the Bernard Charitable
Trust to take its exhibitions to many schools and
other places where young people are present.
The first three school presentations can be seen
on our Facebook pages.
6 Feb 2016
International Holocaust Remembrance Day
Today, on the anniversary of the liberation of Auschwitz,
we remember those who suffered and perished in the
Holocaust, including the tens of thousands from Oradea
who were sent on forced labour or who were deported to
that death camp.
We are participating in a number of commemoration
events. Please refer to our News or Facebook for more
information.
27 Jan 2016
Two minorities: two histories
We have created more educational materials for teachers with
a view to encouraging an understanding amongst students of
the identity and history of the Roma and the Jews. The
importance of how stereotypes and prejudice can lead to
discrimination is also explored through students thinking
about their own identities.
More information is contained in our News section or we invite
readers to visit our new website for teachers (www.tikvahedu.ro).
We are grateful to the primary funder of this project (Joods
Humanitair Fonds) for all their support and encouragement
over many years.
13 Jan 2016
Lots more News
We have more coverage of the statue unveiling; a
learning experience in Copenhagen; the launch of two
books at the University of Oradea; and pupils from
Biharia visiting the memorial to the deported children.
28 Oct 2015
Today we unveil the statue
Today we will unveil the statue in the memory of the
Jewish children deported from Oradea during the
Holocaust in Northern Transylvania. It is sited in Balcescu
Park from where the trains left to Auschwitz.
More details in the next few days.
15 Oct 2015
Today we remember
On 9 October 1941 began the deportation of Jews from
Bessarabia and Bukovina to Transnistria under the regime
of Ion Antonescu. This commemoration for this event was
led in Bucharest by the President of Romania, Mr Klaus Iohannis.
See our News for further information.
9 Oct 2015
Anne Frank exhibition in Bucharest
Today we launched the "Anne Frank A History for Today"
exhibition in the National Library of Bucharest. It will be
available for viewing for the next month. See our Facebook
for pictures of the event.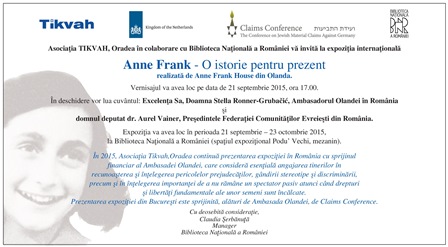 21 Sep 2015
Third year of tennis competition
Remembering Lenke Ziszovits Popper the national
tennis champion deported to Auschwitz. More detail
in News.
27 Aug 2015
Memorial for the children – an update
You have been magnificent and we have reached
our target. Please see our News to check the
latest position.
Projects
Our Projects have now all been completed.