Architects
Architects
Jozsef Vago
(1877 - 1947)
Jozsef Vago was born in Oradea in 1877 and studied architecture at the University of Budapest graduating in 1900.
He began working for the Secessionist (Hungarian Art Nouveau) architect Odon Lechnerand and his influence can be seen in Vago's buildings in Oradea.
Vago was instrumental in the design in a number of the notable buildings in Oradea including Moskovits Palace and the police barracks (1913). He worked for a number of years with his older brother Laszlo, also an architect.
After World War I he moved to Italy. In 1926 he entered a competition for the designof the Palace of Nations to be built in Geneva and was one of the four winners who co-operated in the final design.
He returned to Budapest and published books on Hungarian architecture and urban planning. At the start of World War II, he moved to France where he died in 1947 and left behind his son, Pierre Vago, himself a prominent architect. 
Authors
Lajos Bíró
(1880 - 1948)
Lajos Bíró (Blau) was born in Oradea (then Nagyvárad) on 22 August 1880. He became a journalist, editor, prolific fiction writer, playwright, drama critic, scriptwriter and executive director in a major film company.
One of his first works written and published in Nagyvarad was Bálványrombolók: (Egy Cinikus Ember Meséi) in 1901. Bíró left Nagyvárad to join the Budapesti Napló (Budapest Daily), a newspaper then edited and published by József Vészi, an outstanding figure from the first generation of Jewish intellectuals who dominated Hungarian political journalism. One of Vészi's daughters married Bíró. After the First World War Bíró moved to Vienna where he was a journalist and drama critic and whilst there he wrote and published over 30 plays, novels and short stories.
Between 1924 and 1932 he worked in Hollywood and became a successful screenwriter in the silent film era.
In the later 1930s Bíró became one of Alexander Korda's highly creative team of Hungarian writers, artists, and executives assembled in London Films, a newly established film production company, in England.
He was to remain in close association with Korda for the rest of his career. He co-scripted Korda's first British film, Service for Ladies ; he acted as staff "dramaturge," or script supervisor, not only on those films Korda himself directed, such as The Private Life of Henry VIII , Rembrandt , and An Ideal Husband , but those he produced, including Czinner's Catherine the Great (another adaptation of The Czarina ), Harold Young's The Scarlet Pimpernel , Jacques Feyder's Knight without Armour , Tim Whelan's The Divorce of Lady X , and Zoltan Korda's Sanders of the River , The Drum , The Four Feathers , and The Thief of Bagdad . No doubt Korda's implicit trust in Biro began with their early association and collaboration in Hungary and subsequently in Hollywood. He also worked on H. G. Wells's film The Man Who Could Work Miracles and (uncredited) Korda's abortive production of I, Claudius , and at one stage acted as script adviser to Winston Churchill when Korda invited the future Prime Minister to prepare a script about his ancestor, the Duke of Marlborough.
Lajos Bíró died in London in 1948.
(Adapted largely from a commentary by the late Roger Manvell, a director of the British Film Academy)
Reuven Tsur
Reuven Tsur was born in Oradea in 1932. He had a BA in English and Hebrew Literature from the Hebrew University, Jerusalem, and a D.Phil. in English from the University of Sussex.
Reuven Tsur was Professor Emeritus of Hebrew Literature and Literary Theory at Tel Aviv University, served several terms as the director of the Katz Research Institute for Hebrew Literature. He had been visiting professor at the Hebrew University, at Columbia University, and at the University of Lancaster.  
He was Vice President for the Middle East of the International Association for Empirical Aesthetics, and a member of a number of editorial boards. He developed a theory of Cognitive Poetics, and applied it to rhyme, sound symbolism, poetic rhythm, metaphor, poetry and altered states of consciousness, period style, genre, archetypal patterns, translation theory, the implied critic's decision style, and critical competence. 
Reuven Tsur was awarded the Israel Prize (2009) in "General Literature", for his work in literary theory: cognitive poetics and poetic prosody. 
Reuven died in September 2021.
Painters
József Biró
(1907 - 1945)
József Biró was a prominent academic and art commentator, particularly in respect of Baroque architecture and was the author of many learned publications  (including The History of European Painting). But as can be seen he was a formidable artist in his own right.
He was born in Oradea and attended its Jewish schools (his father, Mark Biro, was the Principal of the Orthodox school). He finished his education in Budapest and achieved much despite having a major hearing defect.
When the deportations to the Oradea ghetto took place he was able to use his academic influence to save himself, his wife, Aniko Auer and his parents from incarceration.
However, as his nephew, Adam Biro writes (see his excellent book "One must also be Hungarian", translated beautifully by Catherine Tihanyi, and published by the University of Chicago Press) it was only a temporary reprieve.
In one of the more horrific episodes of a particularly troubled time József was arrested by the Arrow Cross Hungarian gendarmes in Budapest. His father, the former teacher from Oradea, tried to save him and went with him. They were tortured with razor blades. 
As Adam Biro relates: "My grandfather wiped off the blood on his son's back with his shirt, then they were led near....the hanging bridge. There, on the shores of the Danube, they were tied together and one of them was shot so that the dead one would pull the living one to the bottom of the water. Did the father drag the son in? Or was it the other way round?"
The murder happened on January 6th 1945.
Ernő Tibor
(1884 - 1945)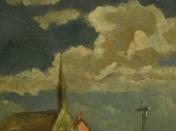 Ernő Tibor (Fischer) was recognised as a talented painter from his earliest days in Oradea. As a young man the city offered him a scholarship in Paris, where he achieved recognition and which led to his travelling to Italy, Germany and Belgium.
He returned to Oradea to continue his experiments in impressionism and post-impressionism. He exhibited in the great cities of Europe but he remained committed to Oradea and set up a School of Belles Arts which was attended by 12 students. He also participated in the Painting School of Baia Mare and was fascinated by the scenery of Dobrogea and the local traditions.
In his later years he devoted much of his time to capturing the atmosphere of the rural countryside, agricultural work and country fairs. 
Ernő Tibor was at the height of his powers when the anti-Jewish laws were introduced and he became marginalised as an artist.
In 1944 he was interned in the Oradea ghetto and then deported to Auschwitz. He was subsequently transferred to other camps and perished in Dachau just days before liberation.
Alex Leon
(1907 - 1944/5)
Alex Leon (Lővinger Sándor) was born in Petroşani, but developed his artistic skills in Oradea. Originally from modest family circumstances he worked as an apprentice tailor, then as a lithographer at the Sonnenfeld printing house in Oradea. There he acquired linocut and wood engraving techniques and developed his artistic abilities.
After participating in a number of creative camps across Romania he achieves recognition through a personal exhibition in Prague. Through the sale of a folio of lithographs and support from a benefactor, he achieves his ambition of moving to Paris for three years. He meets Marc Chagal, whom he apparently befriended and he developed his skills through working in the studio of sculptor Aristide Maillot.
Returning to Oradea as a master of his craft, his main artistic themes were to be of oppression, fear and hopelessness. Alex Leon predicted the war once the Nazis came to power.
At the age of 35 he is detained, sent to a forced labour camp and then to the front, from where he never returns. 
Erno Grünbaum
(1908 - 1945)
Erno Grünbaum was born in Oradea and after working in leather tanning and carpentry he became an apprentice engraver in the Sonnenfeld printing house. There he became friends with fellow Jewish artist Alex Leon. 
At the age of 24 he was given a solo exhibition at the Journalist's Club of Oradea and his reputation soared. Further exhibitions took place in successive years.
Many of his paintings commented upon the impending oppression. The final painting above is a self-portrait.
In 1944 Erno was confined in the Oradea ghetto and deported to Auschwitz. From there he was taken to other camps and he perished in Mauthausen on 3 April 1945.
Moric Barat
(1880 - 1944)
Moric Barat was born in Bihor County. He studied in Budapest and at the Academy of Fine Arts in Munich. He returned to Oradea and participated in the regular exhibitions of the 1930s exhibiting both pictures from the naturalist and post-impressionist genres. He painted oils, watercolours, pastels, urban landscapes, interiors, still life paintings, but he also drew his inspiration from the Jewish holidays. He is credited with painting Jeune garcon avec un violin in 1913.
Moric was also a teacher and owner of a bookshop in Oradea. In 1944 he was taken to the Oradea ghetto and onwards to Auschwitz where it is assumed that he died.
Jenő Elefánt
(1899 - 1944)
Jeno Elefant was born in Oradea in 1899 and studied at the Hungarian Academy of Fine Arts in Budapest in 1918/19. Returning to Oradea he was one of the founding members of the Association of Fine Arts together with fellow artists Alex Leon and Erno Grunbaum.
He exhibited frequently in the 1930s but in 1944 was confined in the Oradea ghetto and deported to Auschwitz. From there he was taken to the concentration camp of Mauthausen on June 8, 1944 and was then transferred to the branch camp Gusen. Later he was transferred to Castle Hartheim where he died on December 20, 1944.
Transfers to the Castle Hartheim indicate that the prisoner became a victim of the so called Operation "14 f 13". This cover name refers to the selection and killing by poison gas of prisoners who were unfit to work or `undesirable` for political or racist reasons.  After the arrival at Schloss Hartheim they were killed in the gas chambers within the next few hours.
We are grateful to the Holocaust Memorial Center in Budapest for providing images of a number of the paintings above and also to a range of art galleries.
Poets
Magdalena Klein
(1920 – 1946)
Magdalena Klein survived the ordeal of deportation and death camp, but died soonafterwards, in the summer of 1946. She left her testimony in form of poetry. Her beautifully handwritten poems were kept meticulously in a notebook, which she entrusted just before being deported to a Gentile friend for safekeeping. Mr. Szabados returned the notebook to her after the war.
Magda was born in Marghita, Romania, into a middle-class family, as the youngest of eight children. In 1938, she moved with her parents to Oradea and hardly started to enjoy life in a larger city when the anti-Jewish laws were introduced one by one. In the poem "Often a Minute", we see her determination to fight against the approaching evil.
OFTEN A MINUTE
Often a minute, a day, seem so slight.
My eyes glance at the news with fright
And I'm afraid to turn the radio on,
For again I hear of Jewish persecution.
First Germany, then Vienna;
Today Italy also enters the arena.
Even she can't stand these people
Who never did her any evil.
They haven't harmed, yet are disliked
And thrown prey to insult.
The youth that longs to live,
Is choked before it has a chance to breath.
Why are we uselessly persecuted?
Why is our fate so desolate?
But fight and contempt give us strength
To bear the filth of hatred.
And shaking off every speck of dust
This indestructible nation shall stand just.
For Jewish brother, let's not despair!
Our day, too, shall once come through
And the sun will brightly be shining.
Brothers, the Jewish spring will be arriving!
In 1944, Magda was deported with her family from the Nagyvarad ghetto to Auschwitz. Her arrival and separation for her loved ones, particularly her elderly mother, was most difficult for her to endure and is described in one of her last poems as:
I ALWAYS KNEW
I always knew how much I loved you,
That I could never leave you behind.
My body may be a worthless worm,
But my soul from yours will never be torn.
Years were passing
And the horrible curse came true.
They locked us millions in cattle cars,
And even you, so faithful to the Almighty,
The murderers denied immunity.
I couldn't do for you a thing.
Watching you my eyes were weeping.
I wanted to follow you everywhere – even
At the price of my life, I thought then.
But on a horrible night, as our train
Slowed down and stopped in the open plain,
They stole you from me, my only treasure.
And yet, I could continue on further.
When the snow fell, I worried about you, only,
You were by my side at every step.
When I got tired, you led me ahead,
You stroked me, you held my hand.
This is how I survived the dreadfully big struggle
And I returned to the old abode.
Since then, I always search to find you, to reunite,
I expect you morning, noon, and night.
I always knew how much I loved you.
My soul has never left you,
Followed you even then,
And down here, lifelessly,
I play a farce – I mime,
This world is no longer mine.
Magda survived the death camp ordeal mostly with the help of her sisters. When she returned to Oradea, she realized that her parents, three of her sisters and their families, as well as all the young nieces and nephews were lost forever.
In the poem below, she recounts the forced march from Auschwitz to Hochweiller, where she was liberated after months of heavy labour:
I'M TELLING THE STORY
I'm telling the story today, for it has dawned.
I'm telling what has not yet been told.
For such a thing had never happened,
Although wretched barbarians lived before.
So cruelly, no one ever murdered,
So meanly, no one ever robbed.
Hellish suffering scraped our bodies
When we lost everyone.
We lost them in the dark of the night,
Allowed them to march into the mass grave.
And yet, we suffered on, for we could hope
To see them one day.
In rags, soiled, infested with lice,
Stabbed by hunger and lined up by fives,
Mother her child, and child her mother,
Waited with beating hearts to see each other.
When one day the bombs came like a message,
Everyone was happy, every faced beamed.
May we yet live to see the Russian friend!
Oh, may we just hold a red flag in hand
And see our murderous executioner shackled!
If need be, I don't care if we all perish,
Just that we live to see this one thing.
But in late autumn, they marched us on
Into the dark grim forest,
On to wild desolate lands.
Never to see the deliverance,
Unclad frail feet were trudging in the snow
To dig deep trenches with enslaved hands.
It was easier in Auschwitz in the dusty land.
In our thoughts we often returned home,
But sometimes our hope would abate.
Then one day, like a maddening dazzling dream,
Our saviors came on white horse and sleigh.
Seeing us, the splendid warriors cried
And swore revenge
On the Berlin executioner's hide.
From this bonding
We concluded an eternal alliance.
Blessed are your names to us
And blessed the memory of the day
When freedom was given to every slave
And men from animals were born men again.
In her last poem, she describes her emotional impasse:
I LOVED TO WRITE
How much I loved to write in the old days-
If I laughed, cried, felt happy or sad,
I always, incessantly, wanted to write.
The present, the future, I lamented, enshrined.
And what happened yesterday I've felt, not seen.
Oh, I'm so scared in this cursed world
Where I lost my dearest shining leading light
In a horrible tempestuous night.
My life has closed forever.
My joy is shoddy and melancholy.
My laughter is hollow and unhappy.
I'll never laugh wholeheartedly.
Magda wrote most of her poems in Hungarian. The above English translations were made by Susan Geroe and published by Fithian Press in 1996, in the poetry volume Pearls and Lace.
Otto Honig
(1925 - 1945)
To familiarise somewhat the readers with Otto Honig, I will have to take them back in time to 1942-1944 and in place to the city of Oradea, more precisely to the Dr. Kecskemeti Lyceum. This school was similar to an American High School, but with a more extensive curriculum, which enabled its graduates to be admitted directly to Medical School, Engineering, etc. There were 60 students in my graduating class, 16 girls and 44 boys.  
Otto sat somewhere in the last row, where he could write his poems while teachers lectured about math,history, geography, subjects for which he did not care. We were lucky if he read us one of his poems,published under the pseudonym Otto Emil in the most respected Hungarian Literary Journal, HID (BRIDGE in English).
His friend and mentor was the later celebrated poet Imre Horvath. A film, entitled "The Song of Fools" is being made today in Oradea about Imre Horvath's life. It is my hope that it will include Otto Honig, whose young life came to an end following deportation to Auschwitz.
George Liebermann M.D.
Translated by George Liebermann M.D.
Gloomy buggy
In the dusk of the gleam dawn 
Zooms with us a nice auburn buggy 
Coated with shiny gold 
Inside and beneath hubbub of heartbeats, 
Since there is no end, or border ahead.
It rushes, gallops on the road forward 
Never stops on its pale course. 
It absorbs and churns 
the blood in our hearts, 
ignores the heart's imploring cries 
And it wouldn't, the heart wouldn't move aside.
A large big bloody-red wave forms its cockpit 
Because the blood of the passed heart moves 
its wave forever up and down in gallop, 
throws off those done consumed 
Onto a cursed swaying chair.
That is the faint red chaos. 
And who reaches it, chants no more 
the blood inciting song of youth. 
In the distance can see his grave, 
And like a dream his tomb comes closer.
Then the cruel fate pushes 
The twisted hearts even farther, 
the desiccated bodies: blood drained 
lakes; they fall out under the buggy 
Onto the road of no return. 
      I stand in the plains
I stand here; crippled, limp, deafened. 
Still admire with twisted, contorted smile 
the spoiled mean world. 
And my damnations yell dreadful with burden, 
Painful and majestic thundering grief into the night.
I stood here forever, 
And noticed every minute of the exultant, 
Stupid, sluggish extinguished worlds. 
Sad awakening from the flash of a dream. 
Vicious struggles over bloody treasures, 
Every sigh of the bitter minutes.
I stand here not unlike a rude Quasimodo. 
And I who saw the noble somber poets 
Of the ancient world who cruised the 
Grand roads of Vergilius; fire of hells… 
Today, I still stand and see the deep 
Burning eyes of the glorious future.
I see and hope; maybe I will live to see 
The home of the noble enjoyment. 
I still stand tall, I, who refuse to be taken 
By the murderer's arm 
In this vicious, ravaging, repulsing Today. 
At the end, I stay pure in the world.
---
Reproduced by kind permission of Jewishgen